Shakespeare's Stratford on the Web
www.stratford-upon-avon.co.uk
site by QuinSolve :: W - www.quinsolve.co.uk :: E - enquiries@quinsolve.co.uk :: T - +44 (0)1608 664774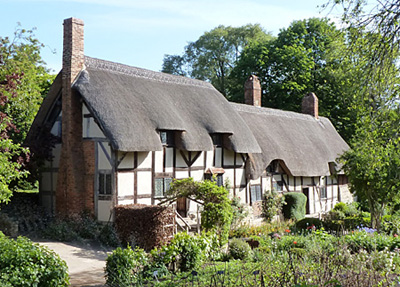 Anne Hathaway's Cottage - Stratford-upon-Avon - photo by
Quinsolve ©
Welcome to Stratford-upon-Avon.
Welcome to Stratford-upon-Avon, the birthplace of William Shakespeare, steeped in culture and history. Set in the beautiful rural Warwickshire countryside, on the banks of the river Avon, it is one of the most important tourist destinations in the UK. With easy road, rail and airport access, it is the perfect place for a vacation or short break. Facilities for conferences and smaller business venues are excellent.
Come wander through these Stratford pages, get a taste of Olde England - and make your plans now. Using the Stratford district as a base, you can enjoy the delights not only of Shakespeare's hometown, but also the nearby surrounding shire counties of Oxfordshire, Worcestershire and Gloucestershire. Enjoy Blenheim Palace and the
Cotswolds
to the south, Worcester and the Malverns to the west, Warwick Castle and Henley in Arden to the north, and all within an hour's journey of Stratford itself.
Here you will find hundreds of pages of information on: accommodation, eating out, drinking and relaxing, romantic breaks, theatres, places to visit - Shakespeare's houses and the beautiful Stratford-upon-Avon with its parks and gardens on the banks of the river Avon. Come visit Stratford-upon-Avon and enjoy our lovely town.
Newly Reopened RSC Theatre.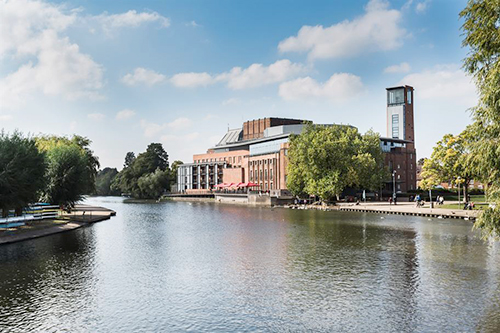 The RSC theatre has a very busy schedule for the Summer 2016 with programmes by Shakespeare and other authors:

- Hamlet
- A Midsummer Night's Dream
- Cymbeline
- Doctor Faustus
- Don Quixote
- The Alchemist
If you are planning to visit Stratford plan early especially during special occasions.
See our What's On programme for more details as they become available.
For the current theatre schedule showing at the Royal Shakespeare Company (RSC) which has a full set of programmes throughout summer 2016.
Stratford-upon-Avon has a very rich and varied programme of events and activities see our What's On for 2016 throughout the year: theatres, arts, music in the parks, river racing, river cruising, walks along the river or simply relax and take in the atmosphere that is Shakespeare's Stratford.
Royal Shakespeare Theatre Schedule for Summer 2016:
Welcome to the Royal Shakespeare Company's Summer 2016 season with Shakespearean comedies and a variety of other works.
A Midsummer Night's Dream: 17 February 2016 to 5 March 2016 and 15 June 2016 to 16 July 2016 (Royal Shakespeare Theatre).
In 2016, together with amateur companies from across the UK, we take you on a very special Midsummer adventure with a unique production of A Midsummer Night's Dream.
The nation's favourite Shakespeare play is his love letter to amateur theatre and is performed as never before; magically intertwining professional and amateur actors. For this production, directed by Deputy Artistic Director Erica Whyman (Hecuba 2015 and The Christmas Truce 2014), our professional actors are joined by amateur theatre companies as Shakespeare's Mechanicals.
The production will also tour all 12 regions and nations of the UK from March to June 2016, with a different local amateur company joining our professional actors in their home location prior to all of the companies re-forming in Stratford at Midsummer.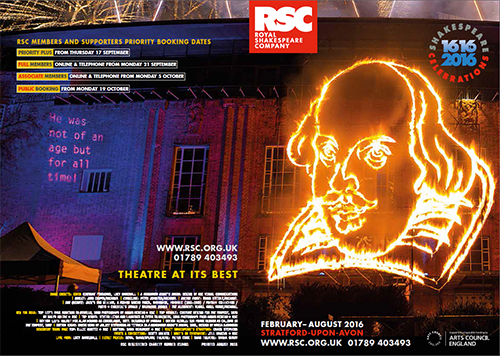 Hamlet: 12 March 2016 to 13 August 2016 (Royal Shakespeare Theatre).
Hamlet has the world at his feet. Young, wealthy and living a hedonistic life studying abroad. Then word reaches him that his father is dead.
Returning home he finds his world is utterly changed, his certainties smashed and his home a foreign land. Struggling to understand his place in a new world order he faces a stark choice. Submit, or rage against the injustice of his new reality.
Simon Godwin (The Two Gentlemen of Verona 2014) directs Paapa Essiedu as Hamlet in Shakespeare's searing tragedy. As relevant today as when it was written, Hamlet confronts each of us with the mirror of our own mortality in an imperfect world.
Cymbeline: 29 April 2016 to 12 August 2016(Royal Shakespeare Theatre).
Cymbeline is ruler of a divided Britain. When Innogen, the only living heir, marries her sweetheart in secret, an enraged Cymbeline banishes him. Distracted by Innogen's marriage, Cymbeline is blind to the actions of a powerful figure behind the throne who is plotting to seize power by murdering them both.
In exile, Innogen's husband is tricked into believing she has been unfaithful to him and in an act of impulsive jealousy begins a scheme to have her murdered. Warned of the danger, Innogen runs away from court in disguise on a journey fraught with danger that will eventually reunite Cymbeline with a lost heir and reconcile the young lovers.
Shakespeare's rarely performed romance is directed by Melly Still who designed Tales from Ovid and Midnight's Children for the RSC and whose directing credits include The Cunning Little Vixen for Glyndebourne Opera, The Coram Boy and The Revenger's Tragedy for the National Theatre.
Doctor Faustus: 4 February 2016 (The Swan Theatre).
Faustus is a brilliant but embittered academic, a solitary scholar who has exhausted the confines of human knowledge. Frustrated with the futility of religion, law and science he is desperate for a deeper understanding of the universe – and for the worldwide fame that it will bring. Risking everything, he conjures the demon Mephistopheles and asks him to strike a deal with Lucifer. Twenty four years of absolute knowledge and infinite power in exchange for his soul.
Despite being tormented by doubt, Faustus agrees to the deal and signs in blood. But as he begins to revel in his new powers, the world around him starts to collapse and the clock inexorably counts down to the final moment of reckoning.
Maria Aberg (The White Devil 2014 and As You Like It 2013) returns to the RSC to direct Marlowe's notorious tale of vanity, greed and damnation.
Don Quixote: 25 February 2016 to 21 May 2016 (The Swan Theatre).
After a lifetime of reading books on chivalry, Don Quixote decides to embark on a quest of his own. Taking up a lance and sword, he sets out to become a wandering knight, defending the helpless and vanquishing the wicked.
Hopelessly unprepared and increasingly losing his grip on reality, he travels across Spain accompanied by his faithful and equally ill-suited squire. With each calamitous adventure they experience, the romantic ideal of Quixote's books seems further away than ever.
Cervantes' comic novel is widely regarded as one of the foundation stones of modern fiction. It is newly adapted for the stage by James Fenton (The Orphan of Zhao 2012) and directed by Angus Jackson (Oppenheimer 2014) to mark the 400th anniversary of Cervantes death.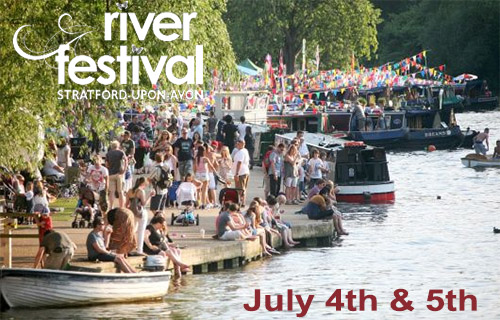 The Alchemist: 26 May 2016 to 6 August 2016 (The Swan Theatre).
When London is hit by an outbreak of the plague, the wealthy Lovewit flees to the country, leaving his townhouse in the hands of his trusted butler, Jeremy. But no sooner has his master left than Jeremy begins turning the house into a den of criminal activity. Assuming an alias, he recruits fellow conman Subtle and prostitute Doll Common to help him and sets out to rip-off half of London.
Soon every knock at the front door is another unwitting victim begging to be relieved of their cash. Things couldn't be going better for the gleeful trio until they receive a very unwelcome visitor.
Polly Findlay (The Merchant of Venice 2015 and Arden of Faversham 2014) directs Jonson's hilarious satire that revels in just how vain we humans can be.
Note: Programme produced by The Royal Shakespeare Company. Click here for a downloadable and printable copy of the
RSC Summer 2016 Programme.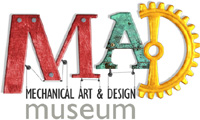 New MAD (Mechanical Art and Design) Museum now Open in Stratford-upon-Avon:
The MAD Museum (Mechanical Art & Design) showcases Kinetic Art, Automata and Steampunk. Located on Stratford-upon-Avon's highly popular Sheep Street, MAD houses an exciting assortment of exhibits which are superbly engaging for all ages. Think Health Robinson mixed with a Scrapheap Challenge and a hotchpotch of futurist mechanisms and then stir it all up with mind blowing creativity and ingenuity. Come and immerse yourself in an eccentric world full of wacky creations, clever design and interactive entertainment!
New Tourist Office for Stratford-upon-Avon:
Stratford-on-Avon District Council in partnership with Stratford-upon-Avon College recently opened a 'Welcome to Stratford-upon-Avon' new tourist office at Waterside, Stratford-upon-Avon. They will include sales of tickets to local venues and provide an important information facility for visitors and tourists. Telephone: 01789 264 293.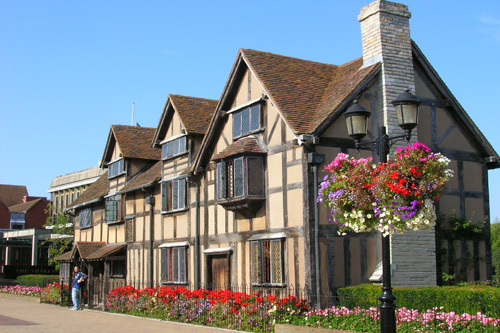 Festivals and Events in Stratford-upon-Avon 2016
Stratford-upon-Avon is a wonderful place to enjoy throughout the year.
Programme of Events for 2016:
- Shakespeare's Birthday Parade (April)
- The River Festival (June/July)
- Stratford Literary Festival
- Stratford Food Festival (September)
- Stratford Races (throughout the year)
- Stratford Fringe Festival (June)
- Rotary Shakespeare Marathon (April)
- Sunday Bandstand Concerts (Summer)
- Stratford Mop (the town becomes a Fairground in October)
- Christmas Lights and Christmas Shopping.
Stratford is a delightful town which can easily be walked around and explored on foot or using the hop-on, hop-off bus service operated by the Shakespeare Trust, who manage the five Shakespeare Houses in and around Stratford..
William Shakespeare's Birthplace in Stratford-upon-Avon - photo by QuinSolve©
For accommodation choices in Stratford-upon-Avon:
SECURE ONLINE BOOKING
B&Bs / Guesthouses in Stratford upon Avon
B&Bs / Guesthouses out of Stratford upon Avon
Hotels in Stratford upon Avon
Hotels out of Stratford upon Avon
Private Houses in Stratford upon Avon
Private Houses out of Stratford upon Avon
Pubs & Country Inns
Farms & Country Houses
Self-Catering Apartments & Cottages
Country Houses outside Stratford upon Avon
Holiday Parks + Camping + Caravanning
Late Availability in Stratford upon Avon