Shakespeare's Stratford on the Web
www.stratford-upon-avon.co.uk
site by QuinSolve :: W - www.quinsolve.co.uk :: E - enquiries@quinsolve.co.uk :: T - +44 (0)1608 664774
Hall's Croft - Stratford-upon-Avon - a watercolor by John Davis ©
Welcome to Stratford-upon-Avon.
Welcome to Stratford-upon-Avon, the birthplace of William Shakespeare, steeped in culture and history. Set in the beautiful rural Warwickshire countryside, on the banks of the river Avon, it is one of the most important tourist destinations in the UK. With easy road, rail and airport access, it is the perfect place for a vacation or short break. Facilities for conferences and smaller business venues are excellent.
Come wander through these Stratford pages, get a taste of Olde England - and make your plans now. Using the Stratford district as a base, you can enjoy the delights not only of Shakespeare's hometown, but also the nearby surrounding shire counties of Oxfordshire, Worcestershire and Gloucestershire. Enjoy Blenheim Palace and the
Cotswolds
to the south, Worcester and the Malverns to the west, Warwick Castle and Henley in Arden to the north, and all within an hour's journey of Stratford itself.
Here you will find hundreds of pages of information on: accommodation, eating out, drinking and relaxing, romantic breaks, theatres, places to visit - Shakespeare's houses and the beautiful Stratford-upon-Avon with its parks and gardens on the banks of the river Avon. Come visit Stratford-upon-Avon and enjoy our lovely town.
Newly Reopened RSC Theatre.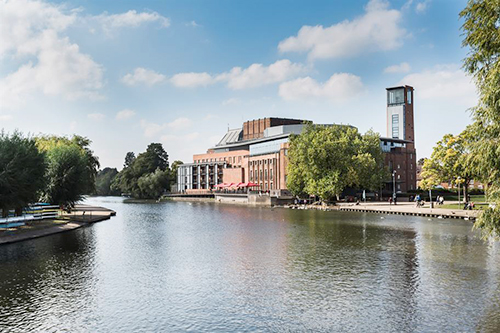 The RSC theatre has a very busy schedule for the Summer 2017 with programmes by Shakespeare and other authors:

- Julius Caesar
- Antony & Cleopatra
- Titus Andronicus
- The Hypocrite
- Vice Versa
- Salome
- Venus & Adonis
If you are planning to visit Stratford plan early especially during special occasions.
See our What's On programme for more details as they become available.
For the current theatre schedule showing at the Royal Shakespeare Company (RSC) which has a full set of programmes throughout summer 2017.
Stratford-upon-Avon has a very rich and varied programme of events and activities see our What's On for 2017 throughout the year: theatres, arts, music in the parks, river racing, river cruising, walks along the river or simply relax and take in the atmosphere that is Shakespeare's Stratford.
Royal Shakespeare Theatre Schedule for Summer 2017:
Welcome to the Royal Shakespeare Company's Summer 2017 season with Shakespearean comedies and a variety of other works.
Julius Caesar: 3 March 2017 to 9 September 2017 (Royal Shakespeare Theatre).
Caesar returns from war, all-conquering, but mutiny is rumbling through the corridors of power.
Our Rome season in the Royal Shakespeare Theatre opens with the politics of spin and betrayal turning to violence. Following his sell-out productions of Tom Morton-Smith's Oppenheimer (2014) and James Fenton's adaptation of Don Quixote (2016),
Season Director Angus Jackson steers the thrilling action as the race to claim the empire spirals out of control.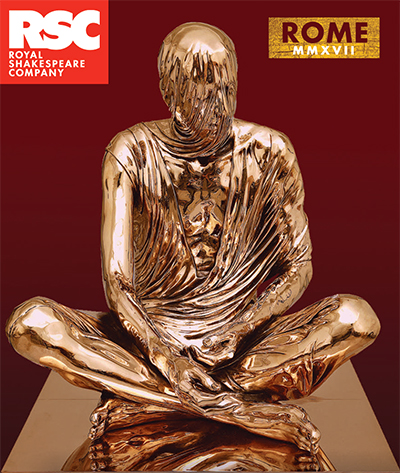 Antony & Cleopatra: 11 March 2017 to 7 September 2017 (Royal Shakespeare Theatre).
Following Caesar's assassination, Mark Antony has reached the heights of power. Now he has neglected his empire for a life of decadent seduction with his mistress, Cleopatra, Queen of Egypt. Torn between love and duty, Antony's military brilliance deserts him, and his passion leads the lovers to their tragic end.
Iqbal Khan returns to the RSC to direct, following his critically acclaimed productions of Othello (2015) and Much Ado About Nothing (2012).
Titus Andronicus: 23 June 2017 to 2 September 2017(Royal Shakespeare Theatre).
The decay of Rome reaches violent depths in Shakespeare's most bloody play.
Titus is a ruler exhausted by war and loss, who relinquishes power but leaves Rome in disorder. Rape, cannibalism and severed body parts fill the moral void at the heart of this corrupt society.
Shakespeare's gory revenge tragedy presents us with murder as entertainment, and, as the body count piles up, poses questions about the nature of sexuality, family, class and society.
Blanche McIntyre returns to the RSC after her debut directing The Two Noble Kinsmen (2016).
The Hypocrite: 30 March 2017 to 29 April 2017 (The Swan Theatre).
What would become a defining moment in Hull's history is, quite frankly, the worst day of Sir John Hotham's life. Charged by Parliament to deny King Charles I entry to the city, Civil War seems inevitable and losing his head more than probable. And that's to say nothing of his problems at home - a lovesick daughter, a ghost obsessed with the chinaware, sexually arousing furniture and a wife intent on escape.
The Hypocrite is a riotous comedy from award-winning playwright Richard Bean (One Man, Two Guvnors). Transferring direct from Hull to Stratford-upon-Avon this brand new co-production is directed by Phillip Breen, whose RSC comic credentials include the 'uproariously enjoyable' The Merry Wives of Windsor (2012) and the 'gloriously entertaining' The Shoemaker's Holiday (2014).
Vice Versa: 11 May 2017 to 9 September 2017 (The Swan Theatre).
A side-splitting comedy romp, lovingly ripped off from the Roman comedies of Plautus by Phil Porter (The Christmas Truce, 2014; A Mad World My Masters, 2013).
A wily servant and a pair of wronged young lovers team up to bamboozle a pompous general in this riotous new farce. Dodgy disguises, comic capers and a talking monkey create pandemonium as the tricksters try to save the girl, free the servant and live to tell the tale!
Director Janice Honeyman (who directed Antony Sher in the Baxter Theatre's 2009 production of The Tempest in association with the RSC) piles on the physical fun in this world premiere production.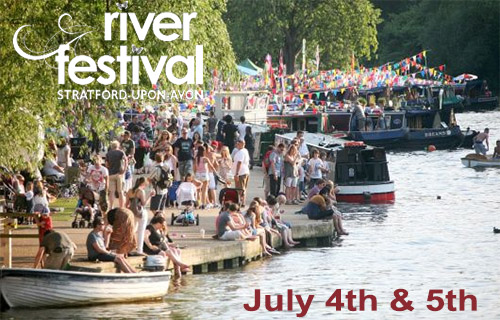 Salome: 2 June 2017 to 7 September 2017 (The Swan Theatre).
Imprisoned by a fearful Herod, the prophet Jokanaan rejects the sexual advances of Herod's stepdaughter, Salomé. When she is compelled by Herod to dance, Salomé is filled with lust-driven revenge and demands the head of the prophet as payment.
Salomé has fascinated and inspired artists across the ages. In Wilde's lyrical one-act drama – originally banned in Britain – he reinvents Salomé as a powerful and enigmatic figure, both erotic and chaste.
Owen Horsley, Associate Director on the King & Country season, directs our first-ever Oscar Wilde production in Stratford-upon-Avon. This new production places sexual ambiguity at the core and revels in the beauty of this poetic masterpiece.
Note: This production features nudity and scenes of a sexual nature.
Venus & Adonis: 26 July 2017 to 6 August 2017 (The Swan Theatre).
Artistic Director Gregory Doran revives his unique version of Shakespeare's kaleidoscopic poem using narration, music and puppetry. This little-known gem was Shakespeare's first bestseller, weaving together comedy, tragedy and beautiful poetry to tell the raunchy story of Venus and her obsession with handsome Adonis.
Created in collaboration with Little Angel Theatre, the home of British puppetry, Venus and Adonis is 'witty, erotic and ingenious' (Guardian).
Note: Programme produced by The Royal Shakespeare Company. Click here for a downloadable and printable copy of the
RSC Summer 2017 Programme.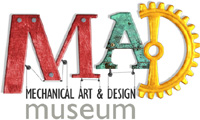 New MAD (Mechanical Art and Design) Museum now Open in Stratford-upon-Avon:
The MAD Museum (Mechanical Art & Design) showcases Kinetic Art, Automata and Steampunk. Located on Stratford-upon-Avon's highly popular Sheep Street, MAD houses an exciting assortment of exhibits which are superbly engaging for all ages. Think Health Robinson mixed with a Scrapheap Challenge and a hotchpotch of futurist mechanisms and then stir it all up with mind blowing creativity and ingenuity. Come and immerse yourself in an eccentric world full of wacky creations, clever design and interactive entertainment!
New Tourist Office for Stratford-upon-Avon:
Stratford-on-Avon District Council in partnership with Stratford-upon-Avon College recently opened a 'Welcome to Stratford-upon-Avon' new tourist office at Waterside, Stratford-upon-Avon. They will include sales of tickets to local venues and provide an important information facility for visitors and tourists. Telephone: 01789 264 293.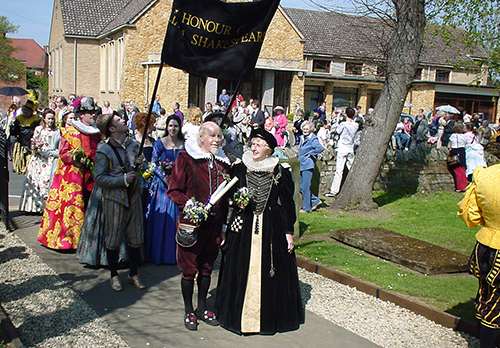 Festivals and Events in Stratford-upon-Avon 2017
Stratford-upon-Avon is a wonderful place to enjoy throughout the year.
Programme of Events for 2017:
- Shakespeare's Birthday Parade (22 April)
- The River Festival (1st/2nd July)
- Stratford Literary Festival (23 April)
- Festival of Motoring (30 April)
- Stratford Food Festival (23 Sept)
- Stratford Races (throughout the year)
- Stratford Fringe Festival (June)
- Rotary Shakespeare Marathon (April)
- Sunday Bandstand Concerts (Summer)
- Stratford Mop (the town becomes a Fairground in October)
- Christmas Lights and Christmas Shopping.
Stratford is a delightful town which can easily be walked around and explored on foot or using the hop-on, hop-off bus service operated by the Shakespeare Trust, who manage the five Shakespeare Houses in and around Stratford..
William Shakespeare's Birthplace Parade Stratford-upon-Avon - photo by QuinSolve©
For accommodation choices in Stratford-upon-Avon:
SECURE ONLINE BOOKING
B&Bs / Guesthouses in Stratford upon Avon
B&Bs / Guesthouses out of Stratford upon Avon
Hotels in Stratford upon Avon
Hotels out of Stratford upon Avon
Private Houses in Stratford upon Avon
Private Houses out of Stratford upon Avon
Pubs & Country Inns
Farms & Country Houses
Self-Catering Apartments & Cottages
Country Houses outside Stratford upon Avon
Holiday Parks + Camping + Caravanning
Late Availability in Stratford upon Avon