Shakespeare's Stratford on the Web
www.stratford-upon-avon.co.uk
site by QuinSolve :: W - www.quinsolve.co.uk :: E - enquiries@quinsolve.co.uk :: T - +44 (0)1608 664774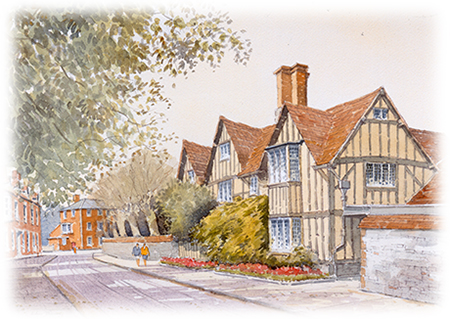 Hall's Croft - Stratford-upon-Avon - a watercolor by John Davis ©
Welcome to Stratford-upon-Avon.
Welcome to Stratford-upon-Avon, the birthplace of William Shakespeare, steeped in culture and history. Set in the beautiful rural Warwickshire countryside, on the banks of the river Avon, it is one of the most important tourist destinations in the UK. With easy road, rail and airport access, it is the perfect place for a vacation or short break. Facilities for conferences and smaller business venues are excellent.
Come wander through these Stratford pages, get a taste of Olde England - and make your plans now. Using the Stratford district as a base, you can enjoy the delights not only of Shakespeare's hometown, but also the nearby surrounding shire counties of Oxfordshire, Worcestershire and Gloucestershire. Enjoy Blenheim Palace and the
Cotswolds
to the south, Worcester and the Malverns to the west, Warwick Castle and Henley in Arden to the north, and all within an hour's journey of Stratford itself.
Here you will find hundreds of pages of information on: accommodation, eating out, drinking and relaxing, romantic breaks, theatres, places to visit - Shakespeare's houses and the beautiful Stratford-upon-Avon with its parks and gardens on the banks of the river Avon. Come visit Stratford-upon-Avon and enjoy our lovely town.
Royal Shakespeare Company Theatre. NOTE ALL PERFORMANCES ARE CURRENTLY SUSPENDED DUE TO COVID-19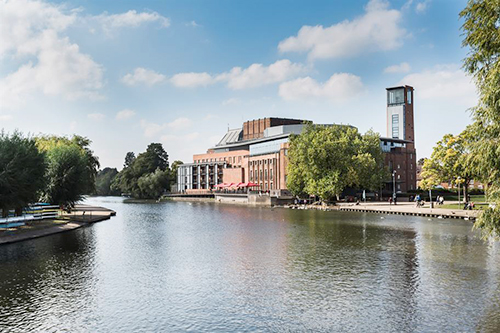 The RSC theatre has a very busy schedule for the Spring and Summer 2020 with programmes by Shakespeare and other authors:

Summer 2020 (March - October 2020):
– The Winter's Tale
– The Comedy of Errors
– Pericles
Project Europa:
– Europeanna
– Peer Gynt
– Blindness and Seeing
The Winter 2019 Programme still running (until March 2020):
– A Museum in Baghdad
– King John
- The Boy in the Dress
If you are planning to visit Stratford plan early especially during special occasions.
See our What's On programme for more details as they become available.
For the current theatre schedule showing at the Royal Shakespeare Company (RSC) which has a full set of programmes throughout summer 2020.
Stratford-upon-Avon has a very rich and varied programme of events and activities see our What's On for 2020 throughout the year: theatres, arts, music in the parks, river racing, river cruising, walks along the river or simply relax and take in the atmosphere that is Shakespeare's Stratford.
Royal Shakespeare Theatre Schedule for Winter 2019/2020:
Welcome to the Royal Shakespeare Company's Winter 2019/202 season with Shakespearean drama and various of other works.
A Museum in Baghdad: 11 October 2019 - 25 January 2020 (Royal Shakespeare Theatre).
A story of treasured history, desperate choices and the remarkable Gertrude Bell.In 1926, the nation of Iraq is in its infancy, and British archaeologist Gertrude Bell is founding a museum in Baghdad. In 2006, Ghalia Hussein is attempting to reopen the museum despite the looting during the war.Collapsing the decades that separate them, these two women seek the same prize: to create a fresh sense of unity and nationhood, to make the world anew through the museum and its treasures. But in such unstable times, questions remain. Who is the museum for? What rights do we have to try to shape someone else's history?Any why does that matter, when people are dying?
Author: Hannah Khalil, Director: Erica Whyman
King John: 19 September 2019 - 21 March 2020 (Royal Shakespeare Theatre).
'Mad world! mad kings! mad composition!'Richard the Lionheart is dead. His brother John is King of England. Threatened from all sides by Europe, the English noblemen and even his own family, King John will stop at nothing to keep hold of his crown. Shakespeare's rarely performed tale of a nation in turmoil vibrates with modern resonance in this vivid new production by Director Eleanor Rhode in her debut at the RSC.
Author: William Shakespeare, Director: Eleanor Rhode
The Boy in the Dress: 8 November 2019 - 8 March 2020 (Royal Shakespeare Theatre).
Dennis is twelve years old and his school football team's star striker. But when Mum leaves home, life is tough. The only reminder Dennis has of Mum is a photo of her in a beautiful yellow dress. A dress rather like the one on the cover of Vogue on sale at Raj's newsagents. And also a bit like the one that Lisa James, the coolest girl in the school, is sketching in her notebook. What do you do if you like both football and dresses? And what will Mr Hawtrey the headteacher do when he discovers that his strict uniform code has been broken by a boy in a dress?David Walliams' heart-warming comedy is brought to the stage for the first time in a musical with all new songs from Robbie Williams and Guy Chambers, and script by former RSC Playwright in Residence Mark Ravenhill in a production for all the family directed by RSC Artistic Director Gregory Doran
Author: David Walliams, Director: Gregory Doran
Royal Shakespeare Theatre Schedule for Summer 2020:
Welcome to the Royal Shakespeare Company's Summer 2020 season with Shakespearean comedies and a variety of other works.
The Winter's Tale: 28 March 2020 to 2 October 2020 (Royal Shakespeare Theatre).
Set across a 16-year span from Mad Men to the moon landings, this moving new production imagines a world where the ghosts of fascist Europe collide with the horrors of The Handmaid's Tale, before washing up on a joyful seashore. King Leontes rips his family apart with his jealousy, but grief opens his heart. Will he find the child he abandoned before it is too late?
Author: William Shakespeare, Director: Erica Whyman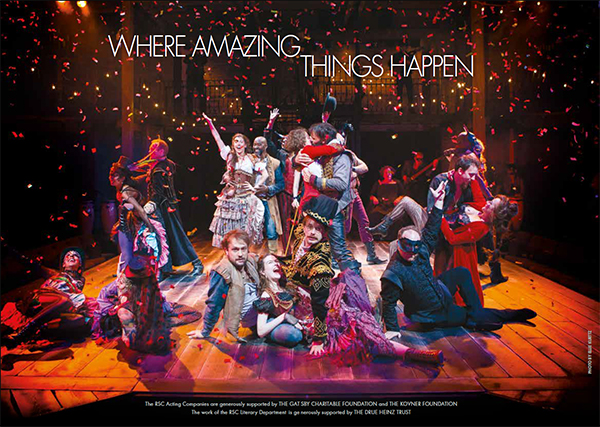 The Comedy of Errors: 25 April 2020 to 3 October 2020 (Royal Shakespeare Theatre).
A fairytale farce of everyday miracles and double vision that asks how we really know who we are. A man arrives in a strange town only to find that everyone knows his name, but thinks he's someone else. A woman wonders why her husband is not the man he was, but starts to rather like it. Confusion mounts as identities split apart. Will they ever find themselves again? And do they really want to?
Author: William Shakespeare,
Director: Phillip Breen
Pericles: 15 August 2020 to 1 October 2020(Royal Shakespeare Theatre).
Forced to flee his native land, Pericles becomes a refugee at the mercy of sea and strangers. Scarred by the heart-breaking loss of family and home, he submits to the rhythms of the ocean in the hope of a miracle. Located in a familiar world of precarious journeys and treacherous alliances, this is a touching and hopeful tale of loss and reconciliation.
Author: William Shakespeare, Director: Blanch McIntyre
Project Europa at the Swan Theatre for Summer 2020:
Welcome to the Royal Shakespeare Company's Summer 2020 season presenting the Europa Project. Three brand new productions investigating the past, present and future of Europe, curated by Maria Åberg and created by some of the leading theatre artists working on the continent right now.What is Europe? The cradle of modern civilisation? A political idea created for economic expansion? A hopeful, humanist idea for peace? Or a geographical landmass with no shared future? Projekt Europa is a provocative look at how we live together in the context of our diverse identities and shared memories, and a celebration of the very best of European theatre making.
Europeanna: 9 April 2020 to 25 July 2020 (Swan Theatre).
A breathless race through the chaotic kaleidoscope of 20th century history, Europeana is a playful theatrical experiment and an investigation of collective memory and our stubborn belief in progress.This new adaptation of the satirical Czech novel compresses a hundred years of European history into a fast-paced, eclectic narrative which collides the invention of the bra with the tragedy of the Holocaust, Barbie with dictators, and fleeting human moments with epic events.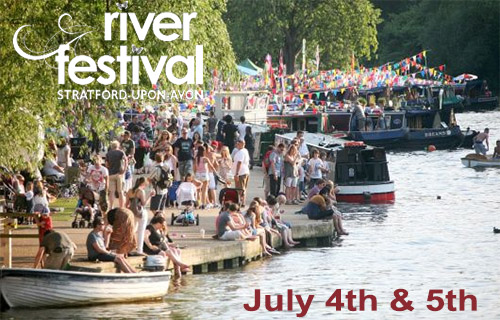 Author: Patrik Ourednik,
Director: Maria Aberg
Peer Gynt: 1 May 2020 to 23 September 2020 (Swan Theatre).
Acclaimed Swiss director Barbara Frey reimagines Ibsen's epic European myth for the 21st century. Hungry and restless, Peer Gynt is addicted to instant gratification and driven by an increasingly desperate search for meaning. But in a world where identity is commodity and greed is god, what really is the price we pay for individual freedom?
Author: Henrik Ibsen, Director: Barbara Frey
Blindness and Seeing: 1 August 2020 to 26 September 2020(Swan Theatre).
Blindness and Seeing is a poetic and evocative vision for the future by Nobel Prize winning Portuguese novelist José Saramago, adapted and directed by rising star Tiago Rodrigues. One afternoon, a city's inhabitants are suddenly overcome by an epidemic of blindness that spares only one woman. She becomes a guide for a small group of strangers in this dark, emotive parable that questions the very nature of democracy.
Author: José Saramago, Director: Tiago Rodrigues
Note: Programme produced by The Royal Shakespeare Company. Click here for a downloadable and printable copy of the
RSC Summer 2019 Programme.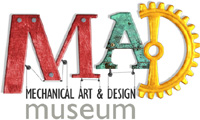 New MAD (Mechanical Art and Design) Museum now Open in Stratford-upon-Avon:
The MAD Museum (Mechanical Art & Design) showcases Kinetic Art, Automata and Steampunk. Located on Stratford-upon-Avon's highly popular Sheep Street, MAD houses an exciting assortment of exhibits which are superbly engaging for all ages. Think Health Robinson mixed with a Scrapheap Challenge and a hotchpotch of futurist mechanisms and then stir it all up with mind blowing creativity and ingenuity. Come and immerse yourself in an eccentric world full of wacky creations, clever design and interactive entertainment!
New Tourist Office for Stratford-upon-Avon:
Stratford-on-Avon District Council in partnership with Stratford-upon-Avon College recently opened a 'Welcome to Stratford-upon-Avon' new tourist office at Waterside, Stratford-upon-Avon. They will include sales of tickets to local venues and provide an important information facility for visitors and tourists. Telephone: 01789 264 293.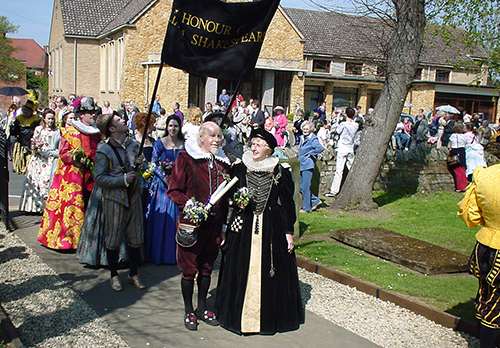 Festivals and Events in Stratford-upon-Avon 2020
Stratford-upon-Avon is a wonderful place to enjoy throughout the year.
Programme of Events for 2020:
- Shakespeare's Birthday Parade (tba April 2020)
- The River Festival (tba July 2020)
- Stratford Literary Festival (tba April 2020)
- Festival of Motoring (tba May 2020)
- Stratford Food Festival (tba Sept 2020)
- Stratford Races (throughout the year)
- Stratford Fringe Festival (June)
- Rotary Shakespeare Marathon (April)
- Sunday Bandstand Concerts (Summer)
- Stratford Mop (the town becomes a Fairground in October)
- Christmas Lights and Christmas Shopping.
Stratford is a delightful town which can easily be walked around and explored on foot or using the hop-on, hop-off bus service operated by the Shakespeare Trust, who manage the five Shakespeare Houses in and around Stratford..
William Shakespeare's Birthplace Parade Stratford-upon-Avon - photo by QuinSolve©
For accommodation choices in Stratford-upon-Avon:
SECURE ONLINE BOOKING
B&Bs / Guesthouses in Stratford upon Avon
B&Bs / Guesthouses out of Stratford upon Avon
Hotels in Stratford upon Avon
Hotels out of Stratford upon Avon
Private Houses in Stratford upon Avon
Private Houses out of Stratford upon Avon
Pubs & Country Inns
Farms & Country Houses
Self-Catering Apartments & Cottages
Country Houses outside Stratford upon Avon
Holiday Parks + Camping + Caravanning
Late Availability in Stratford upon Avon