Shakespeare's Stratford on the Web
www.stratford-upon-avon.co.uk
site by QuinSolve :: W - www.quinsolve.co.uk :: E - enquiries@quinsolve.co.uk :: T - +44 (0)1608 664774
Hall's Croft - Stratford-upon-Avon - a watercolor by John Davis ©
Welcome to Stratford-upon-Avon.
Welcome to Stratford-upon-Avon, the birthplace of William Shakespeare, steeped in culture and history. Set in the beautiful rural Warwickshire countryside, on the banks of the river Avon, it is one of the most important tourist destinations in the UK. With easy road, rail and airport access, it is the perfect place for a vacation or short break. Facilities for conferences and smaller business venues are excellent.
Come wander through these Stratford pages, get a taste of Olde England - and make your plans now. Using the Stratford district as a base, you can enjoy the delights not only of Shakespeare's hometown, but also the nearby surrounding shire counties of Oxfordshire, Worcestershire and Gloucestershire. Enjoy Blenheim Palace and the
Cotswolds
to the south, Worcester and the Malverns to the west, Warwick Castle and Henley in Arden to the north, and all within an hour's journey of Stratford itself.
Here you will find hundreds of pages of information on: accommodation, eating out, drinking and relaxing, romantic breaks, theatres, places to visit - Shakespeare's houses and the beautiful Stratford-upon-Avon with its parks and gardens on the banks of the river Avon. Come visit Stratford-upon-Avon and enjoy our lovely town.
Newly Reopened RSC Theatre.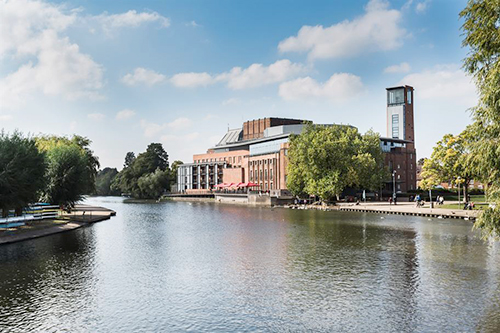 The RSC theatre has a very busy schedule for the Summer 2018 with programmes by Shakespeare and other authors:

– A Christmas Carol
– The Duchess of Malfi
– The Fantastic Follies of Mrs Rich or the Beau Defeated
– Imperium Part I: Conspirator
– Imperium Part I: Dictator
– Julius Caesar: First Encounters
– King Lear
– Macbeth
– The Merry Wives of Windsor
– Miss Littlewood
– Romeo and Juliet
– Twelfth Night
If you are planning to visit Stratford plan early especially during special occasions.
See our What's On programme for more details as they become available.
For the current theatre schedule showing at the Royal Shakespeare Company (RSC) which has a full set of programmes throughout summer 2018.
Stratford-upon-Avon has a very rich and varied programme of events and activities see our What's On for 2018 throughout the year: theatres, arts, music in the parks, river racing, river cruising, walks along the river or simply relax and take in the atmosphere that is Shakespeare's Stratford.
Royal Shakespeare Theatre Schedule for Summer 2018:
Welcome to the Royal Shakespeare Company's Summer 2018 season with Shakespearean comedies and a variety of other works.
King Lear: 23 May 2018 to 9 June 2018 (Royal Shakespeare Theatre).
King Lear has ruled for many years. As age overtakes him, he divides his kingdom amongst his children. Misjudging their loyalty, he finds himself stripped of the trappings of state, wealth and power that had defined him.
Gregory Doran's critically-acclaimed production returns to the Royal Shakespeare Theatre for three weeks only, with Antony Sher reprising his role as King Lear.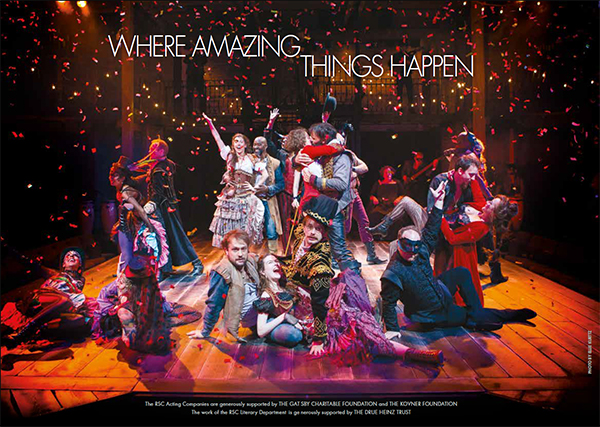 Macbeth: 13 March 2018 to 18 September 2018 (Royal Shakespeare Theatre).
Returning home from battle, the victorious Macbeth meets three witches on the heath. Driven by their disturbing prophecies, he sets out on the path to murder. Shakespeare's darkest psychological thriller marks both Christopher Eccleston's RSC debut and the return of Niamh Cusack to the Company.
The Merry Wives of Windsor: 4 August 2018 to 22 September 2018(Royal Shakespeare Theatre).
John Falstaff plans to hustle his way to a comfortable retirement by seducing the wives of two wealthy men. Unknown to him, it's the women of Windsor who really pull the strings, orchestrating Falstaff's comeuppance amidst a theatrical smorgasbord of petty rivalries, jealousies and over-inflated egos. For a fat Englishman, a Welshman and a Frenchman, the only way is Windsor…
Romeo and Juliet: 21 April 2018 to 21 September 2018 (Royal Shakespeare Theatre).
Set in a world very like our own, this Romeo and Juliet is about a generation of young people born into violence and ripped apart by the bitter divisions of their parents. The most famous story of love at first sight explodes with intense passion and an irresistible desire for change, but leads all too quickly to heartbreaking consequences.
Twelfth Night: 24 February 2018 (Royal Shakespeare Theatre).
Twelfth Night is a tale of unrequited love – hilarious and heart breaking. Twins Viola and Sebastian, are separated in a shipwreck and forced to fend for themselves in a strange land. Christopher Luscombe and the creative team that brought you the beautiful Love's Labour's Lost and Much Ado About Nothing (2014 & 2016) return with Shakespeare's greatest comedy.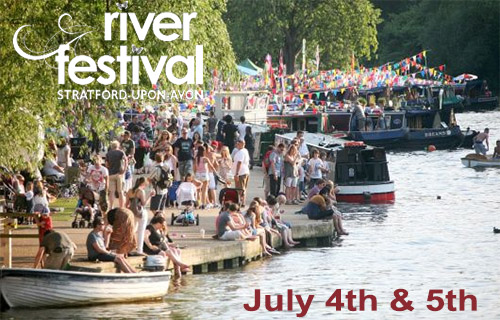 The Duchess of Malfi: 1 March 2018 to 3 August 2018 (The Swan Theatre).
In an attempt to prevent the fiercely independent Duchess from marrying the man she loves, her corrupt brothers go on a disturbing quest to destroy her. Remarkable for its inventive and grotesque violence, yet full of dark humour, this violent revenge tragedy asks how anyone can survive in a world where masculinity has become toxic.
The Fantastic Follies of Mrs Rich or the Beau Defeated: 23 March 2018 to 24 June 2018 (The Swan Theatre).
Mrs Rich, a wealthy widow, aspires to rub shoulders with the great and good and perhaps even gain a title. Unfortunately, she's not the only one after Sir John Roverhead! Mary Pix's comedy of manners combines mischief-making and mind-bending plot twists with a distinctly female wit. Will Mrs Rich ever squeeze her way into high society?
Miss Littlewood: 22 June 2018 to 4 August 2018 (The Swan Theatre).
Joan Littlewood was the anarchic revolutionary of 20th century theatre. Born into poverty, she raged her way to have a lasting influence on British culture. This new musical of Joan Littlewood's life story, told with her own uncompromising candour, reveals a mighty love story at its heart.
Note: Programme produced by The Royal Shakespeare Company. Click here for a downloadable and printable copy of the
RSC Summer 2018 Programme.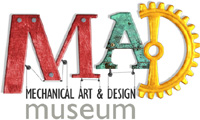 New MAD (Mechanical Art and Design) Museum now Open in Stratford-upon-Avon:
The MAD Museum (Mechanical Art & Design) showcases Kinetic Art, Automata and Steampunk. Located on Stratford-upon-Avon's highly popular Sheep Street, MAD houses an exciting assortment of exhibits which are superbly engaging for all ages. Think Health Robinson mixed with a Scrapheap Challenge and a hotchpotch of futurist mechanisms and then stir it all up with mind blowing creativity and ingenuity. Come and immerse yourself in an eccentric world full of wacky creations, clever design and interactive entertainment!
New Tourist Office for Stratford-upon-Avon:
Stratford-on-Avon District Council in partnership with Stratford-upon-Avon College recently opened a 'Welcome to Stratford-upon-Avon' new tourist office at Waterside, Stratford-upon-Avon. They will include sales of tickets to local venues and provide an important information facility for visitors and tourists. Telephone: 01789 264 293.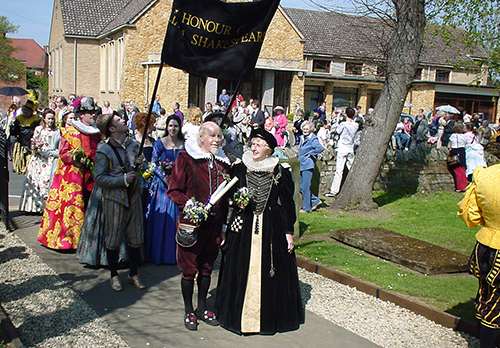 Festivals and Events in Stratford-upon-Avon 2018
Stratford-upon-Avon is a wonderful place to enjoy throughout the year.
Programme of Events for 2018:
- Shakespeare's Birthday Parade (22 April)
- The River Festival (1st/2nd July)
- Stratford Literary Festival (23 April)
- Festival of Motoring (30 April)
- Stratford Food Festival (23 Sept)
- Stratford Races (throughout the year)
- Stratford Fringe Festival (June)
- Rotary Shakespeare Marathon (April)
- Sunday Bandstand Concerts (Summer)
- Stratford Mop (the town becomes a Fairground in October)
- Christmas Lights and Christmas Shopping.
Stratford is a delightful town which can easily be walked around and explored on foot or using the hop-on, hop-off bus service operated by the Shakespeare Trust, who manage the five Shakespeare Houses in and around Stratford..
William Shakespeare's Birthplace Parade Stratford-upon-Avon - photo by QuinSolve©
For accommodation choices in Stratford-upon-Avon:
SECURE ONLINE BOOKING
B&Bs / Guesthouses in Stratford upon Avon
B&Bs / Guesthouses out of Stratford upon Avon
Hotels in Stratford upon Avon
Hotels out of Stratford upon Avon
Private Houses in Stratford upon Avon
Private Houses out of Stratford upon Avon
Pubs & Country Inns
Farms & Country Houses
Self-Catering Apartments & Cottages
Country Houses outside Stratford upon Avon
Holiday Parks + Camping + Caravanning
Late Availability in Stratford upon Avon