Shakespeare's Stratford on the Web
www.stratford-upon-avon.co.uk
site by QuinSolve :: W - www.quinsolve.co.uk :: E - enquiries@quinsolve.co.uk :: T - +44 (0)1608 664774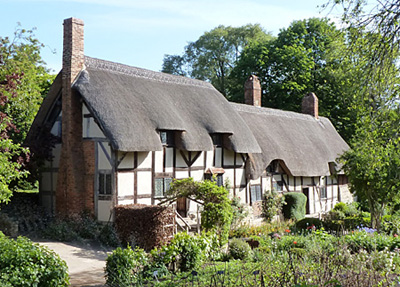 Anne Hathaway's Cottage - Stratford-upon-Avon - photo by
Quinsolve ©
Welcome to Stratford-upon-Avon.
Welcome to Stratford-upon-Avon, the birthplace of William Shakespeare, steeped in culture and history. Set in the beautiful rural Warwickshire countryside, on the banks of the river Avon, it is one of the most important tourist destinations in the UK. With easy road, rail and airport access, it is the perfect place for a vacation or short break. Facilities for conferences and smaller business venues are excellent.
Come wander through these Stratford pages, get a taste of Olde England - and make your plans now. Using the Stratford district as a base, you can enjoy the delights not only of Shakespeare's hometown, but also the nearby surrounding shire counties of Oxfordshire, Worcestershire and Gloucestershire. Enjoy Blenheim Palace and the
Cotswolds
to the south, Worcester and the Malverns to the west, Warwick Castle and Henley in Arden to the north, and all within an hour's journey of Stratford itself.
Here you will find hundreds of pages of information on: accommodation, eating out, drinking and relaxing, romantic breaks, theatres, places to visit - Shakespeare's houses and the beautiful Stratford-upon-Avon with its parks and gardens on the banks of the river Avon. Come visit Stratford-upon-Avon and enjoy our lovely town.
Newly Reopened RSC Theatre.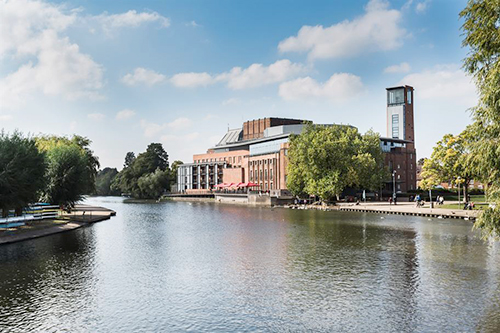 Stratford has just recently enjoyed their wonderful World Festival season and had a very successful season in 2012 for the newly refurbished Royal Shakespeare Theatre.
The RSC theatre has a very busy schedule for the Winter 2014 and early 2015 with programmes by Shakespeare and other authors:
- Love's Labour's Lost
- Much Ado About Nothing
- The Christmas Truce
- The White Devil
- The Witch of Edmonton
- Oppenheimer
- The Shoemaker's Holiday
- Insights into Productions
- Director Talks
- Family Activities
- Practical Workshops
- Free Open Air Theatre.
If you are planning to visit Stratford plan early especially during special occasions.
See our What's On programme for more details as they become available.
For the current theatre schedule showing at the Royal Shakespeare Company (RSC) which has a full set of programmes throughout winter 2014.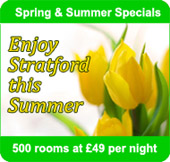 Stratford-upon-Avon has a very rich and varied programme of events and activities see our What's On for 2014 throughout the year: theatres, arts, music in the parks, river racing, river cruising, walks along the river or simply relax and take in the atmosphere that is Shakespeare's Stratford.
Royal Shakespeare Theatre Schedule for Winter 2014 and early 2015:
Welcome to the Royal Shakespeare Company's Winter 2014 and early 2015 season with Shakespearean comedies and a variety of other works.
Love's Labour's Lost: 23 September 2014 to 14 March 2015 (Royal Shakespeare Theatre).
Summer 1914. In order to dedicate themselves to a life of study, the King and his friends take an oath to avoid the company of women for three years. No sooner have they made their idealistic pledge than the Princess of France and her ladies-in-waiting arrive, presenting the men with a severe test of their high-minded resolve.
Shakespeare's sparkling comedy delights in championing and then unravelling an unrealistic vow, and mischievously suggesting that the study of the opposite sex is in fact the highest of all academic endeavours. Only at the end of the play is the merriment curtailed as the lovers agree to submit to a period apart, unaware that the world around them is about to be utterly transformed by the war to end all wars.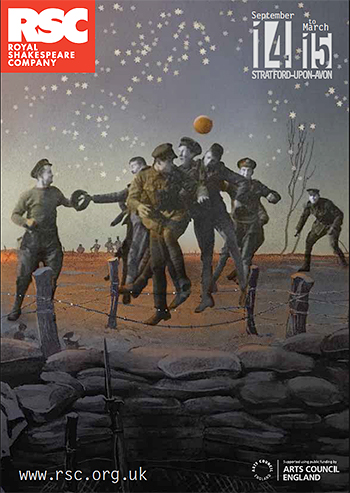 Much Ado About Nothing: 3 October 2014 to 14 March 2015 (Royal Shakespeare Theatre).
Autumn 1918. A group of soldiers return from the trenches. The world-weary Benedick and his friend Claudio find themselves reacquainted with Beatrice and Hero. As memories of conflict give way to a life of parties and masked balls, Claudio and Hero fall madly, deeply in love, while Benedick and Beatrice reignite their own altogether more combative courtship.
Shakespeare's comic romance plays out amidst the brittle high spirits of a post-war house party, as youthful passions run riot, lovers are deceived and happiness is threatened – before peace ultimately wins out.
Christopher Luscombe directs the second of Shakespeare's matching pair of comedies that rejoice in our capacity to find love in the most unlikely places. Better known as Much Ado About Nothing, the play is performed under the title Love's Labour's Won, a name possibly attributed to it during Shakespeare's lifetime.
The Christmas Truce: 29 November 2014 to 31 January 2015 (Royal Shakespeare Theatre).
December 1914. As families across Europe gather to celebrate Christmas, a generation of young men find themselves far away from their loved ones in the trenches of the Western Front. There they face a world seemingly devoid of any peace or goodwill. But on Christmas Eve 1914, as the men of the Warwickshire Regiment shelter in their trenches, something astonishing happens.
Across no-man's land they hear music. The German soldiers are singing Christmas carols; the same carols their families are listening to, hundreds of miles away in Birmingham, Warwick and Stratford-upon-Avon. Leaving their trenches, carrying only their courage and their humanity, they go to meet their enemies; not to fight, but talk, to exchange gifts, to celebrate Christmas. And the next day, together, they play an unforgettable game of football.
Inspired by real events of exactly 100 years ago, RSC Deputy Artistic Director Erica Whyman directs Phil Porter's uplifting new play for families that celebrates a remarkable Christmas story.
The White Devil: Season extended to 29 November 2014 (Swan Theatre).
Duke Bracciano is obsessed by the married Vittoria. When he makes her an indecent proposal she can't refuse, she enlists the help of Flamenio to fool her husband, and begins an illicit affair.
But their infidelity does not go unnoticed. Accusations of adultery are made and Vittoria and Flamenio find themselves snared in a web of corruption, passion and retribution as their single minded pursuit of personal gain reaches an epic and bloody conclusion.
The Witch of Edmonton: 23 October to 29 November 2014 (Swan Theatre).
In the village of Edmonton, Elizabeth Sawyer is derided by her neighbours. A poor and lonely old woman, she is ostracised, harassed and accused of being a witch. In her abject misery, she wishes that she really were bewitched and so able to wreak vengeance. Unluckily for Elizabeth and the villagers of Edmonton, someone with the power to grant that wish is listening.
As Elizabeth uses her new found powers to seek revenge on those who have wronged her, other villagers find their own lives falling apart and an attempted elopement ends in murder. When witch and murderer are finally caught, the people of Edmonton must decide if either crime merits forgiveness.
RSC Artistic Director Gregory Doran directs the final production in the Roaring Girls Season with Eileen Atkins returning to the Company to play Elizabeth Sawyer. Eileen's many film and television credits include Cranford, for which she won a BAFTA and Emmy, as well as Gosford Park. She is currently appearing in Ellen Terry with Eileen Atkins at the Sam Wanamaker Playhouse.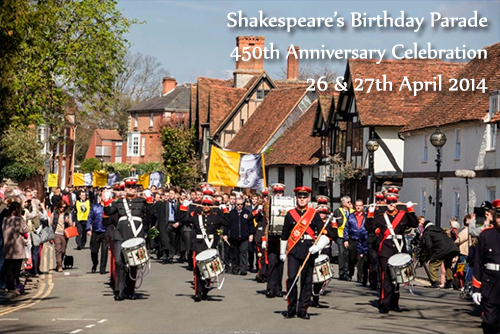 The Shoemaker's Holiday: 11 December 2014 to 7 March 2015 (Swan Theatre).
Rowland Lacy loves Rose Oatley but it's not going to work out. An aristocrat and a middle class girl aren't supposed to marry, not least because Rowland is a very bad boy and her parents really don't approve.
When his father sends him to war to reform his ways, Rowland must take drastic action to avoid any chance of unnecessary personal injury and secretly pursue his love. He goes from riches to rags. Losing himself among the craftsmen of London he assumes the guise of a Dutch shoemaker (he learnt Dutch on his gap year of course) at the shop of the larger-than-life Simon Eyre and his wife Margery who are decidedly on their way from rags to riches.
Following his acclaimed RSC debut, The Merry Wives of Windsor (2012), Phillip Breen returns to direct Dekker's glorious city comedy of class, conflict and cobblers in love.
Oppenheimer: 15 January to 7 March 2015 (Swan Theatre).
1939: fascism spreads across Europe, Franco marches on Barcelona and two German chemists discover the processes of atomic fission. In Berkeley, California, theoretical physicists recognise the horrendous potential of this new science: a weapon that draws its power from the very building blocks of the universe. The ambitious and charismatic J Robert Oppenheimer finds himself uniquely placed to spearhead the largest scientific undertaking in all of human history. Struggling to cast off his radical past and thrust into a position of power and authority, Oppenheimer races to win the 'battle of the laboratories' and create a weapon so devastating that, with the detonation of a single device, it would bring about an end not just to the Second World War, but to all war.
As the political situation darkens, Tom Morton-Smith's new play takes us into the heart of the Manhattan Project. Exploring the tension between the scientific advances that will shape our understanding of the fabric of the universe, and the justification of their use during wartime, Oppenheimer reveals the personal cost of making history.
Directed by Angus Jackson whose recent credits include King Lear at Chichester Festival Theatre and Brooklyn Academy of Music.
Note: Programme produced by The Royal Shakespeare Company. Click here for a downloadable and printable copy of the
RSC Winter 2014 Programme.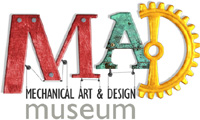 New MAD (Mechanical Art and Design) Museum now Open in Stratford-upon-Avon:
The MAD Museum (Mechanical Art & Design) showcases Kinetic Art, Automata and Steampunk. Located on Stratford-upon-Avon's highly popular Sheep Street, MAD houses an exciting assortment of exhibits which are superbly engaging for all ages. Think Health Robinson mixed with a Scrapheap Challenge and a hotchpotch of futurist mechanisms and then stir it all up with mind blowing creativity and ingenuity. Come and immerse yourself in an eccentric world full of wacky creations, clever design and interactive entertainment!
New Tourist Office for Stratford-upon-Avon:
Stratford-on-Avon District Council in partnership with Stratford-upon-Avon College recently opened a 'Welcome to Stratford-upon-Avon' new tourist office at Waterside, Stratford-upon-Avon. They will include sales of tickets to local venues and provide an important information facility for visitors and tourists. Telephone: 01789 264 293.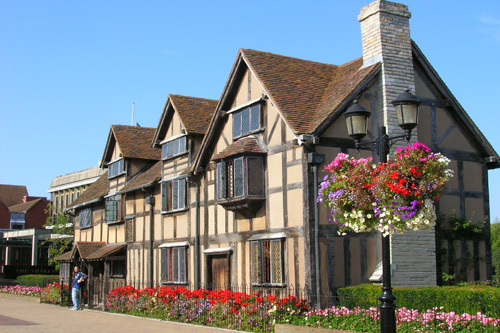 Festivals and Events in Stratford-upon-Avon 2014
Stratford-upon-Avon is a wonderful place to enjoy throughout the year.
Programme of Events for 2014:
- Shakespeare's Birthday Parade (April)
- The River Festival (June/July)
- Stratford Literary Festival
- Stratford Food Festival (September)
- Stratford Races (throughout the year)
- Stratford Fringe Festival (June)
- Rotary Shakespeare Marathon (April)
- Sunday Bandstand Concerts (Summer)
- Stratford Mop (the town becomes a Fairground in October)
- Christmas Lights and Christmas Shopping.
Stratford is a delightful town which can easily be walked around and explored on foot or using the hop-on, hop-off bus service operated by the Shakespeare Trust, who manage the five Shakespeare Houses in and around Stratford..
William Shakespeare's Birthplace in Stratford-upon-Avon - photo by QuinSolve©
For accommodation choices in Stratford-upon-Avon:
SECURE ONLINE BOOKING
B&Bs / Guesthouses in Stratford upon Avon
B&Bs / Guesthouses out of Stratford upon Avon
Hotels in Stratford upon Avon
Hotels out of Stratford upon Avon
Private Houses in Stratford upon Avon
Private Houses out of Stratford upon Avon
Pubs & Country Inns
Farms & Country Houses
Self-Catering Apartments & Cottages
Country Houses outside Stratford upon Avon
Holiday Parks + Camping + Caravanning
Late Availability in Stratford upon Avon