Shakespeare's Stratford on the Web
www.stratford-upon-avon.co.uk
site by QuinSolve :: W - www.quinsolve.co.uk :: E - enquiries@quinsolve.co.uk :: T - +44 (0)1608 664774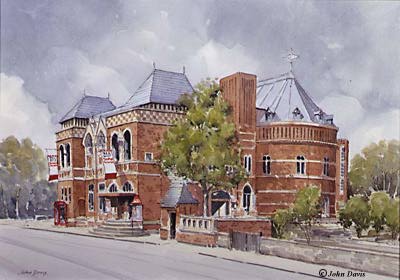 RSC Swan Theatre & Library - a watercolour by
John Davis©
Hotels in Stratford
Select from the wide range of hotels within town and also within the surrounding area. Choose from an out of town based bed and breakfast or a bed and breakfast set in the rural Warwickshire countryside. Stratford-upon-Avon is surrounded by many villages, hamlets and farmsteads, with many offering superb, tranquil B&B accommodation.
Please select from the list below.
The general facilities can be highlighted by mousing over the yellow box. The accommodation award ratings are also shown.
To see more details of the hotel, simply click on the title of each hotel to go directly to their website.
The Choices -
(links in blue)
Chapel Street, Stratford-upon-Avon. Warwickshire CV37 6ER. Tel : (+44)2477/092802 - Fax : (+44)1789/415411
The Mercure Stratford-Upon-Avon Shakespeare Hotel owes its 4 stars not only to the quality of its 78 individually decorated guest rooms, six meetings rooms and charming courtyard garden. The hotel also features a restaurant and two lounge-bars where guests can enjoy anything from casual drinks or afternoon tea to a three course meal, making it the ideal place to stay for both family holidays and business venues. The hotel is even suitable for civil ceremonies and receptions thanks to its 100 person capacity room with original wooden beams. Easily accessible and close to many of the city's touristic spots, the Mercure Strafford Upon Avon hotel guarantees you a peaceful and relaxing stay at the heart of Shakespeare's hometown.

Warwick Road, Stratford Upon Avon, Warwickshire, CV37 6YT
The Best Western Grosvenor Hotel in Stratford upon Avon is a delightful Grade II listed hotel located close to the centre of Stratford upon Avon, in the heart of Warwickshire, only a few miles from Warwick, Leamington Spa, Birmingham and the National Exhibition Centre (NEC). This Georgian style hotel is one of the most distinctive hotels in Stratford upon Avon, the delightfully rambling ground floor exudes tremendous character with small, intimate lounges, creating an ambience to match the Shakespearean past of this historic market town.
41 Main Street Tiddington, Stratford-upon-Avon CV37 7AS Tel: 01789 290210.
The Stratford Limes Hotel is a small friendly hotel which has recently undergone extensive refurbishment. Situated in one of the quieter, peaceful and popular area of Stratford upon Avon, we can offer private free car parking, sunny orangery lounge, restuarant bar, and courtyard garden.
For those on business we have a small meeting room, for a more informal breakfast meeting just use our orangery. Weddings, small events and functions also catered for. Whatever your requirements we can tailor a packages to suit your individual needs, we provide the ideal base for visiting the town and exploring the local area.
Warwick Road, Stratford-upon-Avon, Warwickshire, CV37 0NR. Tel: 01789 295252
Close to Stratford-upon-Avon, surrounded by 157 acres of beautiful parkland resides the magnificent Menzies Welcombe Hotel Spa & Golf Club. Built in 1866 this imposing Jacobean style country house hotel still retains many of its historical features and is acknowledged as one of the leading country house hotels in the heart of England. The hotel has recently completed its £2.2 million major refurbishment programme to give the hotel a more traditional and stylish feel. All public rooms including the Trevelyan Restaurant, Bar, Lounge and Function rooms have all been restored giving the hotel a more traditional and luxurious feel. The rooms have been re-styled and re-decorated with stylish soft furnishings, carpets, curtains and enhanced lighting. The four star hotel offers 78 luxurious bedrooms ranging from contemporary air conditioned garden rooms with iMac's to stunning four poster rooms and suites, a magnificent oak-panelled lounge which leads into the hotel's award winning a la carte restaurant with its breathtaking views over the landscaped gardens and rolling countryside beyond.


12 Guild Street, Stratford-upon-Avon CV37 6RE
At this little gem in the heart of Stratford, this elegant Georgian town house is ideal for tourists, business travellers, horse racing enthusiasts and theatre-goers. Set in the very heart of town with private parking available, or if you prefer, we can collect you from the Rail Station.
Clifford Chambers, Stratford-upon-Avon Warwickshire CV37 8AR
Just on the outskirts of town - well known for its superb home-cooked food, all freshly prepared to order, ideally placed for the Cotswolds, Stratford and Warwick. Well known for its superb home-cooked food, all freshly prepared to order, ideally placed for the Cotswolds, Stratford and Warwick.
For availability, prices and online booking

58/59 Rother Street, Stratford-upon-Avon, Warwickshire CV37 6LT
Caterham is located in the heart of Stratford-upon-Avon with the Royal Shakespeare Theatre and Stratford's numerous restaurants and places of interest all within easy walking distance.
For availability, prices and online booking
Church Lane, Shottery, Stratford-upon-Avon, Warwickshire, CV37 9HQ.
Church Farm Barns introduces you to a high quality barn in an attractive location in Stratford-upon-Avon, middle England. The barn provide a superb base for your next holiday or short break with ready access to the Shakespeare country.
For availability, prices and online booking
Waterside, Stratford-upon-Avon, Warwickshire, CV37 6BA
The Arden Hotel is privately owned by the Eden Hotel Collection, winners of the 'AA Small Hotel Group of the Year' 2014-2015.
Located in the heart of historic Stratford-upon-Avon, directly opposite the world-renowned Royal Shakespeare Company Theatres, the Arden Hotel has undergone a multi-million pound refurbishment to create an elegant and sophisticated 45-bedroom boutique-style hotel. The transformed Arden Hotel opened its doors in July 2010, and is fast becoming the flagship destination in the redeveloped World Class Stratford, enticing Shakespeare aficionados and theatre-goers from all over the globe.
The luxuriously renovated Arden boasts the chic new Waterside Brasserie, stylish Champagne Bar and spacious suites with beautiful views over the River Avon, providing an inspirational backdrop for your trip, whether business or pleasure.
16 Church Street, Stratford upon Avon, Warwickshire, CV37 6HB. Tel: 01789 262222
The Church Street Townhouse is located in the heart of Stratford upon Avon. Housed in a 400 year old Grade II Listed building and located directly opposite Shakespeare's school, this boutique hotel is the perfect base to soak up the history, culture and entertainment that our wonderful town offers. Only two minutes' walk from the Royal Shakespeare Theatre, one minute from the bustling town centre, 5 minutes' walk to Shakespeare's Birthplace and 5 minutes in the other direction to the wonderful Holy Trinity Church - whatever you are looking for, it's right on your doorstep.

Rother Street, Stratford-upon-Avon, Warwickshire, CV37 6NH, Tel: 01789 297022.
Situated in the very heart of Shakespeare's birthplace, in the town of Stratford-upon-Avon. The historic White Swan Hotel closed its doors in November for a £3 million restoration project and is reopening in April 2012. Our Grade II listed building will be completely renovated and modernised, whilst maintaining its unique heritage. The front of the hotel will remain as a cosy, traditional pub, serving delicious freshly cooked food and outstanding cask conditioned ales while the 41 bedroom hotel will be fully upgraded to a 4 star standard with a brand new grand reception lounge so that both the pub and hotel are enjoyable and welcoming for all guests.
The White Swan has been dated back to 1450 making the hotel oldest inn and one of the oldest buildings in the town. In one of the rooms at the front of the building there is a wall painting at was commissioned by William Perrott who owned the building in 1560 for his wife. The wall painting depicts the story of Tobais and the angle such a subject would be doubly appropriate for a tavern of the day. The question is did Shakespeare sit and drink his mead while looking at this painting!

Chapel Street, Stratford-upon-Avon. Warwickshire CV37 6HA
The 4 star Falcon Hotel perfectly located a short walk away from the newly reopened Royal Shakespeare Theatre in the heart of historic Stratford-Upon-Avon. With parts of the hotel dating back to the 16th Century, it compromises a quintessential Tudor residence. Featuring decorative half-timbering and original slanted windows it encapsulates Tudor charm. The Hotel benefits from free car parking and free WIFI in all public areas and bedrooms. The Falcon Hotel offers 83 spacious well appointed, en suite rooms that have been refurbished with clean lines and striking contemporary furnishings with business and relaxation in mind, in whatever part of the building they are. A perfect base for exploring the beautiful Warwickshire countryside & the surrounding shires, and not forgetting the picturesque Cotswolds. Alternatively, meander through the streets of Stratford discovering its abundance of treasures, including Shakespeare's Birthplace. Enjoy a gentle stroll by the River Avon or a perfect night at the Royal Shakespeare Theatre, both just minutes away.