Shakespeare's Stratford on the Web
www.stratford-upon-avon.co.uk
site by QuinSolve :: W - www.quinsolve.co.uk :: E - enquiries@quinsolve.co.uk :: T - +44 (0)1608 664774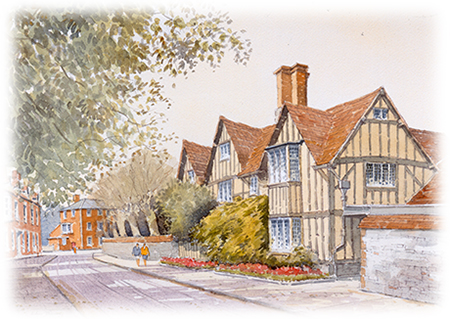 Hall's Croft - Stratford-upon-Avon - a watercolor by John Davis ©
Welcome to Stratford-upon-Avon.
Welcome to Stratford-upon-Avon, the birthplace of William Shakespeare, steeped in culture and history. Set in the beautiful rural Warwickshire countryside, on the banks of the river Avon, it is one of the most important tourist destinations in the UK. With easy road, rail and airport access, it is the perfect place for a vacation or short break. Facilities for conferences and smaller business venues are excellent.
Come wander through these Stratford pages, get a taste of Olde England - and make your plans now. Using the Stratford district as a base, you can enjoy the delights not only of Shakespeare's hometown, but also the nearby surrounding shire counties of Oxfordshire, Worcestershire and Gloucestershire. Enjoy Blenheim Palace and the
Cotswolds
to the south, Worcester and the Malverns to the west, Warwick Castle and Henley in Arden to the north, and all within an hour's journey of Stratford itself.
Here you will find hundreds of pages of information on: accommodation, eating out, drinking and relaxing, romantic breaks, theatres, places to visit - Shakespeare's houses and the beautiful Stratford-upon-Avon with its parks and gardens on the banks of the river Avon. Come visit Stratford-upon-Avon and enjoy our lovely town.
Royal Shakespeare Company Theatre.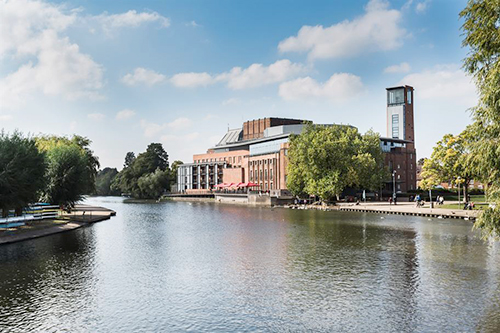 The RSC theatre has a very busy schedule for their Summer/Winter 2022 season with programmes by Shakespeare and other authors:

Summer - Winter 2022 (August - January, 2023):
– Alls Well that Ends Well
- Richard III
- 12th Night

Plus Autumn/Winter 2022 Programme:
– O, Island
- Ivy Tiller: Vicar's Daughter, Squirrel Killer
- A Christmas Carol

If you are planning to visit Stratford plan early especially during special occasions.
See our What's On programme for more details as they become available.
For the current theatre schedule showing at the Royal Shakespeare Company (RSC) which has programmes from Summer to Winter 2022.
Stratford-upon-Avon has a very rich and varied programme of events and activities see our What's On for 2022 throughout the year: theatres, arts, music in the parks, river racing, river cruising, walks along the river or simply relax and take in the atmosphere that is Shakespeare's Stratford.
Royal Shakespeare Theatre Schedule for Summer to Winter 2022:
Welcome to the Royal Shakespeare Company's Summer and Winter 2022 season with Shakespearean drama and various of other works.
Alls Well that Ends Well: 16 August, 2022 - 8 October 2022 (Royal Shakespeare Theatre).
"Love all. Trust a few. Do wrong to none"
Helena is convinced that she and image-conscious Bertram are 'couple goals'. He's not so sure. After engineering their betrothal, Helena will go to any length to realise her idealised version of romance. But do the ends always justify the means? Director Blanche McIntyre finds modern resonance in Shakespeare's enduring dark comedy.
Author: William Shakespeare.
Richard III: until October 8, 2022 (Royal Shakespeare Theatre).
"Conscience is but a word that cowards use"
Young Richard of Gloucester uses the chaos of the Wars of the Roses to begin his unscrupulous climb to power. Despite being manifestly unfit to govern, he seizes the crown, as King Richard III. But how does he do it?
How do we let tyrants get away with it? How do they find their way to power? Why do we buy into it? And how can it be stopped? Richard III is a savagely comic analysis of the exercise of power. It reminds us both of the dangers of tyranny and of our duty not to let it go unchecked.
Author: William Shakespeare, Directed by Gregory Doran and featuring Arthur Hughes (Vassa, The Innocents, #Sugarwater, Then Barbara met Alan) as Richard, this is the thrilling climax to Shakespeare's first great history cycle.
First Encounter Twelfth Night: 10 - 12 November 2022 (The Other Place).
Shipwrecked and separated from her twin brother, Viola washes up on a strange shore and into an even stranger situation.
Disguising herself as a man called Cesario, Viola finds work with Duke Orsino, only to fall head over heels in love with him. But Orsino is in love with Olivia, who is grieving for her brother and refusing all offers of romance. Until, that is, she sees Cesario for the first time.
Add one ambitious butler and some practical joking servants and you have a hugely entertaining story of hoaxes, heartbreak and hidden identities.
Our First Encounters productions are created to give 7-13 year olds a fantastic first experience of Shakespeare whilst also being brilliant introductions for anyone new to his work. Using edited versions of the original language, they bring the plays to life on stage in just 90 minutes.
Author: William Shakespeare, Director: Robin Belfield
O, Island: 30 September to 5 November 2022 (The Other Place).
"You do not feel pain. You do not feel hunger. Now get out there and dance as though you love this island."
When a river breaks its banks one night resulting in a massive flood, one medium-sized village (or very very very small town) finds itself completely cut off - unexpectedly an island.
As the residents embrace their independence, a new leader rises and a shared identity emerges – but at what cost? Shortlisted for the George Devine Award 2020, Nina Segal's O, Island! is a funny and furious modern myth about disaster and community - exploring how borders can be changed by people, by nature and by accident.
Author: Nina Segal, Director: Guy Jones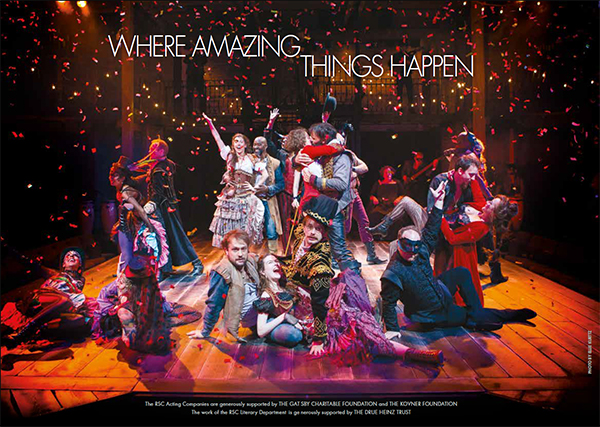 Ivy Tiller: Vicar's Daughter, Squirrel Killer: 6 October to 5 November 2022 (The Other Place).
"You know you act like you're not from here"
Entrenched in her picturesque Devonshire village, Ivy Tiller is preparing to wage a war. Her target: the invasive grey squirrel. Her goal: to oust the invaders and restore the native red squirrels as the 'rightful' inhabitants. Galvanised by her important mission, Ivy's determination swells to uncomfortable heights. This darkly comic new play from Bea Roberts challenges who belongs and who thrives.
Author: Bea Roberts, Director: Caitlin McLeod
A Christmas Carol: 26 October 2022 to 1 January 2023(Royal Shakespeare Theatre).
The smash hit of Christmas past returns to the Royal Shakespeare Theatre by popular demand following sell-out success in 2017 and 2018.
Adrian Edmondson will play Ebenezer Scrooge in David Edgar's critically acclaimed adaptation of Charles Dickens' much-loved classic, A Christmas Carol. In 1843, Charles Dickens decided to write a political manifesto, exposing and condemning the abject misery of the Victorian poor. Instead, he wrote one of the most enduring popular short stories ever written. In one ghostly Christmas night, miserly businessman Ebenezer Scrooge discovers the limitations of his life and beliefs. He learns to pity himself and to love his neighbour – but is that enough? A Christmas Carol is the perfect accompaniment to the festive season for ages seven to 107. Children go half price.
Author: Charles Dickens, Director: Rachel Kavanaugh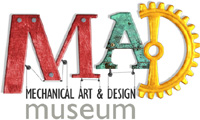 New MAD (Mechanical Art and Design) Museum now Open in Stratford-upon-Avon:
The MAD Museum (Mechanical Art & Design) showcases Kinetic Art, Automata and Steampunk. Located on Stratford-upon-Avon's highly popular Sheep Street, MAD houses an exciting assortment of exhibits which are superbly engaging for all ages. Think Health Robinson mixed with a Scrapheap Challenge and a hotchpotch of futurist mechanisms and then stir it all up with mind blowing creativity and ingenuity. Come and immerse yourself in an eccentric world full of wacky creations, clever design and interactive entertainment!
New Tourist Office for Stratford-upon-Avon:
Stratford-on-Avon District Council in partnership with Stratford-upon-Avon College recently opened a 'Welcome to Stratford-upon-Avon' new tourist office at Waterside, Stratford-upon-Avon. They will include sales of tickets to local venues and provide an important information facility for visitors and tourists. Telephone: 01789 264 293.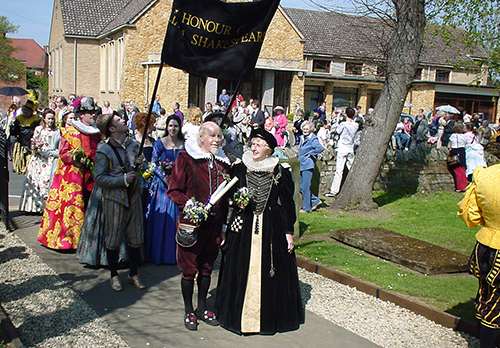 Festivals and Events in Stratford-upon-Avon 2022
Stratford-upon-Avon is a wonderful place to enjoy throughout the year.
Programme of Events for 2022 (will be updated with dates as soon as advised):
- Stratford Victorian Christmas Market (tba Dec 2022)
- Dragon Boat Race (tba Sept 2022)
- The River Festival (tba July 2022)
- Stratford Literary Festival (3 - 8 May 2022)
- Festival of Motoring (tba May 2022)
- Stratford Food Festival (17-18 Sept 2022)
- Stratford Races (from 14 March - 27 October 2022)
- Stratford Fringe Festival (June)
- Rotary Shakespeare Marathon (tba April)
- Sunday Bandstand Concerts (Summer)
- Stratford Mop (the town becomes a Fairground in October)
- Christmas Lights and Christmas Shopping.
William Shakespeare's Birthplace Parade Stratford-upon-Avon - photo by QuinSolve©
Stratford is a delightful town which can easily be walked around and explored on foot or using the hop-on, hop-off bus service operated by the Shakespeare Trust, who manage the five Shakespeare Houses in and around Stratford..
For accommodation choices in Stratford-upon-Avon:
SECURE ONLINE BOOKING
B&Bs / Guesthouses in Stratford upon Avon
B&Bs / Guesthouses out of Stratford upon Avon
Hotels in Stratford upon Avon
Hotels out of Stratford upon Avon
Private Houses in Stratford upon Avon
Private Houses out of Stratford upon Avon
Pubs & Country Inns
Farms & Country Houses
Self-Catering Apartments & Cottages
Country Houses outside Stratford upon Avon
Holiday Parks + Camping + Caravanning
Late Availability in Stratford upon Avon